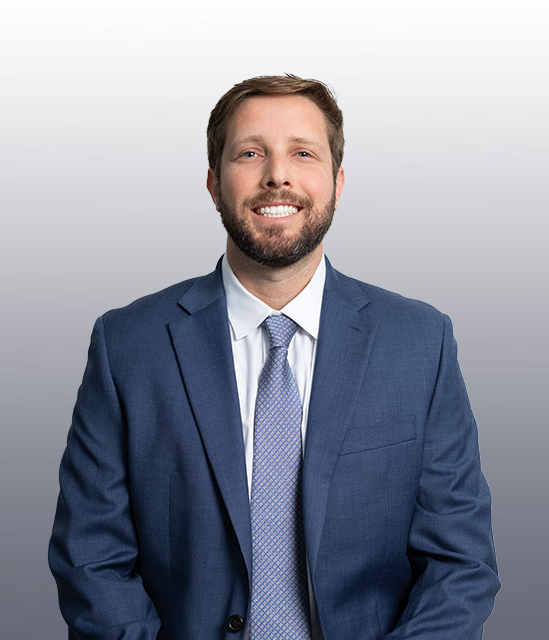 ATTORNEY AT LAW
1.800.GO.HARRIS
Education
Law School
University of San Diego Law
San Diego, California
Graduating Magna Cum Laude
Undergrad
Cal Poly San Luis Obispo
San Luis Obispo, California
Graduating Summa Cum Laude
Profile
Voted Harris Personal Injury 2022 Trial Lawyer of the Year for a trial that ultimately resulted in a judgement more than 18.5x the defense's highest offer.
Evan is a passionate advocate who enjoys representing individuals against large insurance companies and corporations.
He grew up riding motocross and playing hockey on California's Central Coast. For college, Evan attended Cal Poly San Luis Obispo, where he graduated summa cum laude, accepted an invitation to speak as a graduation commencement speaker, and received the Orfalea College of Business Scholastic Achievement Award for graduating with the highest GPA in his Business Entrepreneurship concentration.
Evan earned his Juris Doctor from the University of San Diego School of Law, graduating magna cum laude with election to The Order of the Coif. While in law school, he researched health law & bioethics alongside Professor and Rhodes Scholar Dov Fox. Evan sat on the budget and graduation speaker committees of his Student Bar Association. He received the "Cali" award for the highest grade in Civil Practicum, received the Law Faculty Achievement Scholarship, was nominated as a Law Faculty Outstanding Scholar, and is a Phi Delta Phi member.
In addition, Evan externed for senior federal court judge Hon. M. James Lorenz in the U.S. District Court for the Southern District of California. He has volunteered as a small claims mediator in San Diego Superior Court and at the San Diego Clean Slate Clinic.
Evan enjoys trial preparation and execution and is excited to be home on the Central Coast, representing clients at all stages of pre-trial and trial practice.
Results include: $3,025,000.00, $1,000,000.00, $966,225.17, $865,000.00, $687,500.00, $600,000.00, $521,000.00, $500,000.00, $465,000.00, $355,000.00, $335,000.00, $325,000.00, $315,000.00, $250,000.00, $225,000.00, $200,000.00, $180,000.00, $175,000.00, $172,500.00, $150,000.00, $150,000.00, $135,000.00, and countless other five and six figure results. Out of all of these cases, the highest offer prior to Evan handling the case was $59,000.00; many had zero offers.
In his spare time, Evan likes to ride motorcycles and bicycles, go to the lake, fish, snowboard, and spend time with his wife and friends.